This recipe is very simple, but, for very young children, will require an adult to use the oven. This also makes a colorful cookie for Halloween.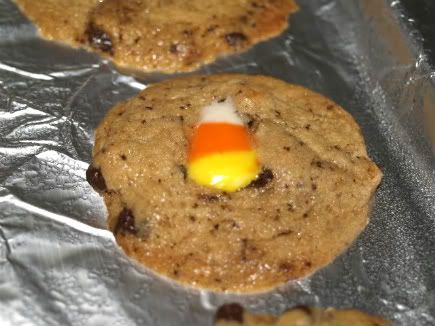 Ingredients
cookie dough mix
package of candy corn
low calorie cooking oil spray
Prepare the cookie dough mix as instructed on the packaging. (Some only need water added which is ideal when cooking by kids, but other mixes may require eggs and/or butter. Alternatively, buy pre-made cookie dough, although your child will miss out on the "mixing" part of the preparations this way.)
Place spoonfuls of cookie dough onto a baking tray sprayed with low-cal cooking oil spray. Add one candy corn on the top of each cookie right in the middle.
Bake as instructed on cookie dough packaging. The candy corn will become slightly melted but stil retain most of its shape once the cookie is finished baking.